Free lifetime updates!
Ace your FAA written test, save money during flight training, and become a better pilot with this Online Learn to Fly Course. Over 15 hours of HD video and animations explain everything you need to know to earn your Private Pilot certificate and feel confident in the left seat. Combine that with powerful test prep tools, a comprehensive document library, and convenient app options, and you have aviation's most complete training course.
What's New
New TV apps: Watch immersive 4K video on your big screen TV. For 2022 we're introducing an all-new Apple TV app with review quizzes, a new Amazon Fire TV app, a new Android TV app, plus Chromecast and Roku support.
Audio training: Listen to each segment when you can't watch the video, either on the go or while you work out. Intuitive app layout makes it easy to switch between video and audio with one touch. Even works with Apple CarPlay!
PowerStudy test prep: Nobody has better test prep tools. Now you can take advantage of every feature online, in the iOS app, or in the Android app. This includes advanced study modes, complete learning history, and the ability to create custom quizzes based on past sessions.
Flight instructor portal: Include your CFI in your at-home training. It's easy to share your progress in the course and complete a pre-solo test that's sent to your instructor. Plus, we'll keep a record of training to document your preparation.
Integrates with AOPA Flight Training Advantage: Connect your training progress and online course for a seamless training experience, inside and outside the airplane.
New video segments: Always the heart of the course, video segments are updated and expanded for 2022. New videos cover the latest changes to airspace, tips for flight planning with Garmin avionics, and new ForeFlight weather tools.
Dynamic in-flight video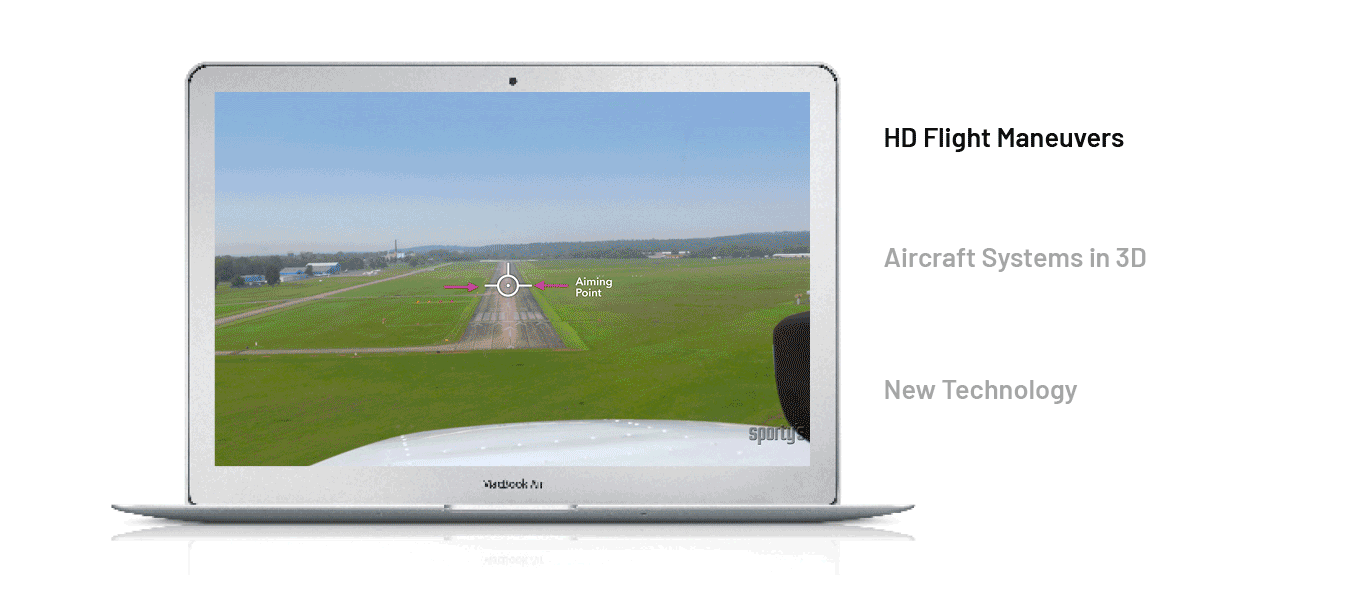 Interactive Written Test Prep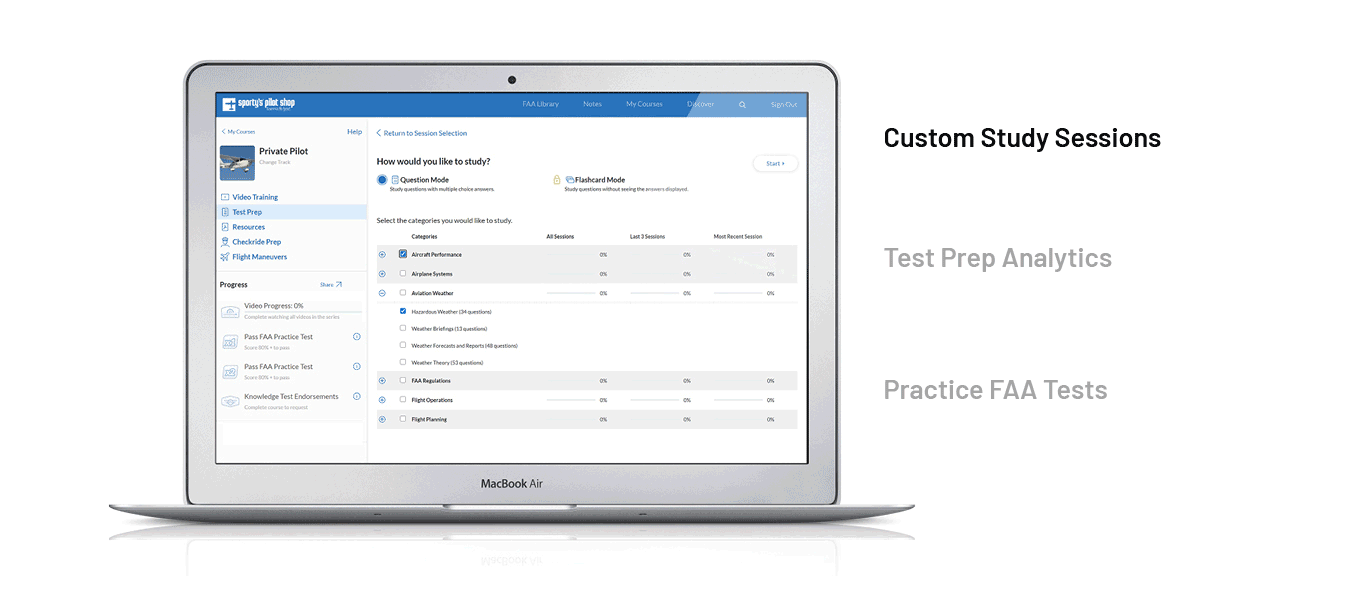 10 reasons pilots prefer online courses:
1. Five formats, one price We know you're busy, so our course is available almost anywhere. Use our online learning platform for complete access to videos and quizzes anywhere you have an internet connection. There's no software to install – just log in and start learning. Or use our dedicated mobile apps for iPad, iPhone, Android, Apple TV, Roku, Amazon Fire TV, and Android TV, which allow you to download videos for offline viewing. Progress automatically syncs between all formats so you can start a study session on your phone and finish on your laptop without missing a beat.
2. Get your written test endorsement When you complete the course, we'll give you the flight instructor endorsement to take the written test—instantly! You can take this endorsement to the FAA testing center, and log it in your ForeFlight logbook. It's complete preparation for the FAA Knowledge Test.
3. Pass all your tests—guaranteed! Our course is so complete we guarantee you'll pass all three tests: the written, oral and flight. Our video segments make complicated subjects like aerodynamics and weather easy to understand, so you'll impress the examiner. Plus, our Airman Certification Standards Study Guide cross-references every required task to the videos, making it easy to review for the checkride.
4. Dynamic in-flight video These courses are famous for their HD video and 3D animations. Not a boring ground school, we put you in the cockpit for a real world look at what flying is all about. You'll see the flight maneuvers from the left seat, and you'll hear actual communications with air traffic control. Plus, each video segment includes helpful review notes for efficient studying, and many also have review quizzes to reinforce key concepts.
5. 32 fully-narrated HD maneuvers In addition to the comprehensive video segments, this Learn to Fly course also includes a detailed maneuvers guide. All 32 maneuvers you might be tested on are included, with a 3D animation of the maneuver, narrated procedures, common errors, and completion standards. It's a great way to review for the checkride.
6. Powerful test prep tools You'll ace the written test with our interactive tools. Create customized study sessions from our proprietary database of over 1,000 FAA test questions and see the right and wrong answers, plus plain English explanations written by our team of CFIs. Detailed analytics show you which areas need the most help, and allow you to study only the questions you've missed. Then, take a practice test that simulates the real knowledge exam you'll have to pass.
10. Free lifetime updates When you buy an online course, you're gaining access to a training platform that's always up to date and always improving. We are continually adding new video segments to reflect new regulations and technology. We also refresh our FAA test question database regularly, so you don't study outdated topics. There's no additional fee or subscription to receive these updates – just log in and learn!
More powerful features:
Covers Private, Recreational, and Sport Pilot – train for one or all three certificates with one course.
Review notes and quick quizzes after most videos help you review your progress.
Download videos for offline viewing in the app or stream them with an internet connection.
Closed captioned videos help students whose first language is not English.
Automatic progress sync between all formats
Connect to your ForeFlight logbook to log your written test endorsement.
Smart study sessions help you drill on your weakest subjects.
Unlimited practice tests and study sessions
Earn FAA WINGS credit and save on your insurance
Air Facts segments go beyond the textbook to make you a proficient pilot.
Automatic updates mean you learn the latest information.
Works with: